---
Virginia BENEDICTO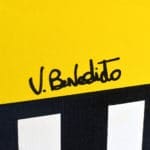 Enthusiasm and spontaneity, here are two words that describe Virginia Benedicto well, whose colorful work is a concentrate of gaiety.
Born in 1971 in Madrid, she studied advertising first, then art. Her passion quickly becomes her job, in which she expresses a contagious happiness.
The curves are round, voluptuous, the Latin influence is very present. Love is one of her favorite themes, as is the apple that she greedily invites us to bite into.